How to Maximize Your Fun at the Sturgis Bike Rally
If you're thinking of heading to the Sturgis Bike Rally this year, check out this article on how to maximize your fun at this motorcycle event!

Have you been to Sturgis? If you're a biker, this is the ultimate bike rally. There are bikes to ride, vendors to see, and so many activities and sights to see.
But if it's your first time at the Sturgis Motorcycle Rally it can be overwhelming with so many things to do, and so little time to do it.
Sturgis Motorcycle Rally is about the motorcycles, concerts, and comradery with many fun things to do. Here are some fun events to check out at the Sturgis bike rally.
The Bikes
This first point should be obvious -- you come to Sturgis bike rally for the bikes, so get your fix of motorcycle glory. Walking around Sturgis, you'll see prestigious brands showing off classic motorcycles and debuting new motorcycles.
You'll also see bikers showing off their amazing bikes. Most of these bikes are classic models or are rare bikes.
Downtown Sturgis
Downtown Sturgis is where the party happens. This is where some of the major vendors gather.
Here, you'll see major and smaller vendors and other memorabilia.
The biggest vendor by far is Harley Davidson.
The Black Hills Harley Davidson company has an awesome amount of products and bike gear. The vendor has anything between motorcycle conversions, motorcycle accessories, helmets, and custom engraving services.
Harley Davidson also has their Rally Point, which hosts fun events such as concerts.
Not far from Sturgis is the Legendary Buffalo Chip which is a major camping ground for the Sturgis bike rally and hosts a plethora of concerts and other amazing events.
Sturgis has multiple vendors set up along the street, as well as stores in this district. Walking around downtown is also a good opportunity to find small motorcycle businesses and vendors.
There are also plenty of restaurants and bars in the downtown area. Some serve more historical and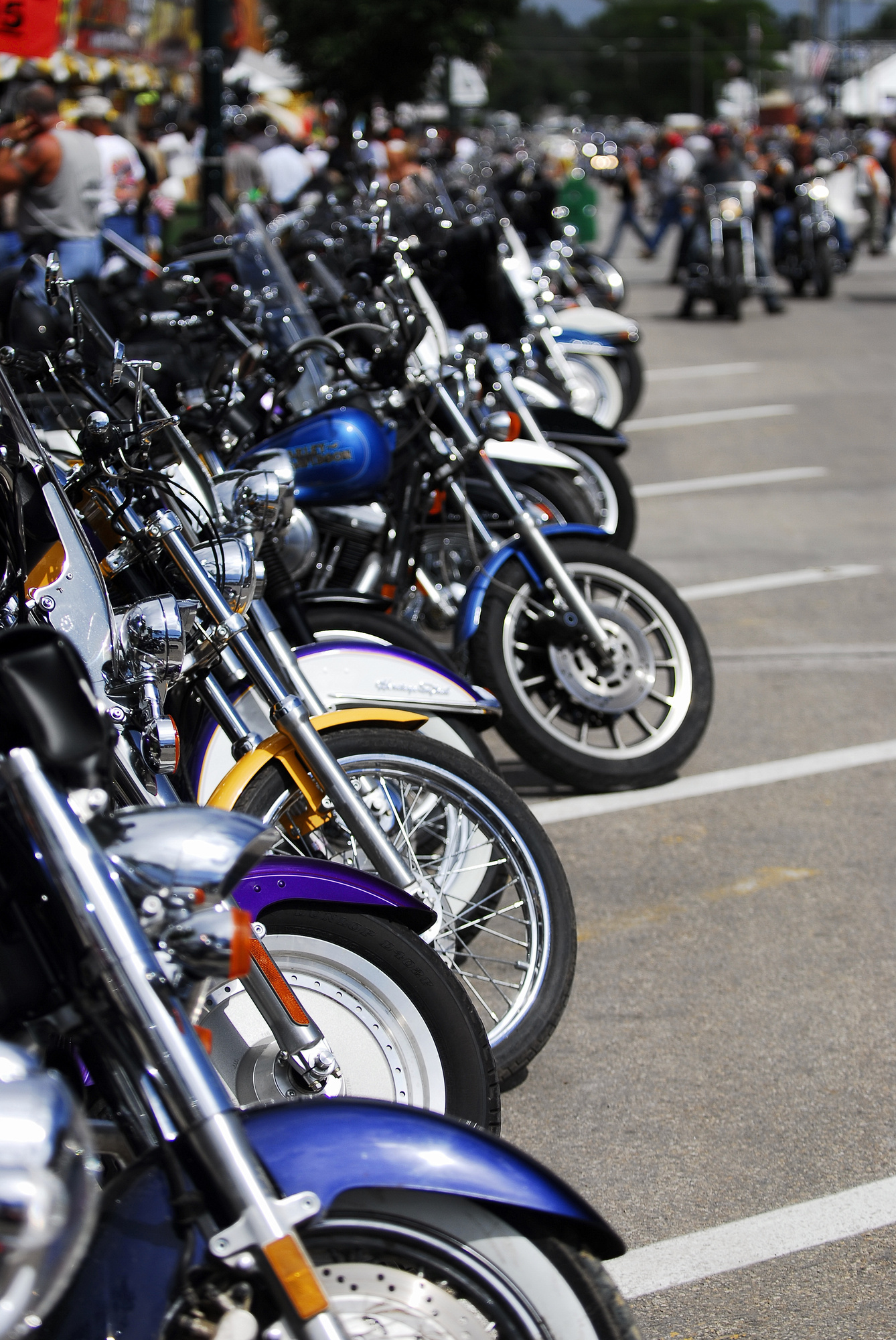 entertainment purposes than others. But if you want food and a drink, downtown Sturgis is where you'll find it.
To get the full downtown Sturgis experience, it's recommended you dedicate a day to walking around downtown.
The Knuckle Saloon and Brewing Company

Another famous landmark is the Knuckle Saloon.
The Knuckle Saloon is known for their amazing food and drinks. They also have their own brewing company where they brew their beers in-house. If you're at Sturgis, there's no place better to get fresh food and fresher beer.
The Knuckle Saloon has received a lot of popularity. They were featured on The Travel Channel and received lots of other press. Meals such as "the Knuckle Sandwich" have received worldwide attention.
The Knuckle Saloon has plenty of lunch and dinner specials and other specialty menu items.
If you want entertainment with your meal, the Knuckle Saloon is one of the biggest entertainment venues at the Sturgis bike rally.
You'll find bull riding, car shows, and concerts at the Knuckle Saloon. There are also other fun activities, such as pool and darts.
Do you have kids with you? No problem -- The Knuckle Saloon is family-friendly with plenty of activities for the kids.
Contests
Think you're the best person at Sturgis? Take your confidence to the test. Sturgis hosts a plethora of contests for the guests with pride. Their two biggest contests are the tattoo contest and facial hair contest.
During the week of Sturgis, Tuesday is dedicated to tattoos. If you have incredible tattoos, make your way to downtown Sturgis and sign up.
There are multiple categories:
Arm sleeve
Leg sleeve
Back piece
Black and gray
Oriental
Pin-up
Cover-up
Horror
Portrait
Traditional
New school
Floral
Color
Overall body
You pay $5 per category you enter. If it applies, you can apply to more than one category.
In addition, there's an amazing facial hair contest. The man who has the best facial hair can test their beard or mustache for a prize.
Categories include:
Papa beard
Baby beard
Double dapper
Not all there
Beard-soaking mustache
Dapper stache
Whiskerina (women with facial hair)
There are restrictions; natural categories must have no hair dye or styling products.
Prizes include cash, gift cards, and meal tickets.
Mayor's Events
The two most celebrated events are:
Mayor's Ride
The Mayor's Ride has been an integral part of Sturgis, ever since 2003. The ride started with Sturgis Mayor Mark Ziegler, but now Mayor Mark Carstensen carries out the ride.
Sturgis guests from all over the world join the Mayor and ride throughout the Black Hills.
You see amazing landmarks such as Mt. Rushmore and Crazy Horse Memorial. While anyone can participate, there are only a few positions open. You also must be 21 years old to ride in the Mayor's ride.
Mayor's Pub Crawl
If you want more fun with Mayor Cartensen, join him for the Mayor's Pub Crawl. You visit all of the best pubs off Main Street.
Have Fun At the Sturgis Bike Rally
Every year, the city of Sturgis dedicates a week in August to bikers.
Several vendors and events open to bikers from around the world. Sturgis offers a plethora of pubs and restaurants, as well as many forms of entertainment. You can even meet, ride with the Sturgis' Mayor.
If you love riding bikes, you need to attend the Sturgis Motorcycle Rally at least once. If you're attending Sturgis for the first time, be prepared for a whole week of fun.
Do you need a place to stay in or near Sturgis? Reserve your house.